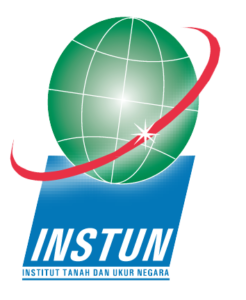 The INSTUN logo, an acronym for the National Institute of Lands and Surveys, was created based on its role as an excellent training center and mission to develop and develop human resources in Land Administration, Surveying and Mapping and Information Technology related to contribute to national development.
The INSTUN logo design consists of three basic shapes, namely circles, squares and orbital lines. The rectangular shape is a stable and strong geometric shape that symbolizes that training activities in Land Administration, Surveying and Mapping are implemented systematically, accurately and with high quality and give the impression of INSTUN as a stable and dynamic organization.
The horizontal and longitudinal lines represent the components of the INSTUN organization that are united and move together as an entity towards the excellence targeted by INSTUN.
for the square shape symbolizes spirituality and serenity.
for the word INSTUN symbolizes the purity and sincerity of INSTUN citizens in fulfilling their responsibilities.
for the circle symbolizes concern for nature, in line with the concept of sustainable development and the realization that nature is a heritage entrusted by its Creator to human beings to be preserved for future generations.
for the orbital line symbolizes courage, satisfaction and prosperity as well as sensitivity to the will of the customer.
the sparkle of the star symbolizes the pinnacle of excellence.