MYKAD is an identity document for a Malaysian citizen. MyKad number is a unique identification number for a citizen and becomes an important information that will be obtained and stored by government agencies when a citizen as an individual deals with government agencies.
However, at present, there are still services provided by the government related to individuals using reference numbers other than MyKad numbers. For example, when dealing with the Inland Revenue Board (IRB) or the Employees Provident Fund (EPF), individuals must provide their respective reference numbers.
In an effort to further improve the government's service delivery system and in line with the concept of '1Malaysia, People First, Achievement Foremost', the government under the leadership of Prime Minister Datuk Seri Najib Razak, introduced an initiative known as MyID.
The main objective of this initiative is to facilitate Malaysian citizens as individuals while dealing with various government agencies.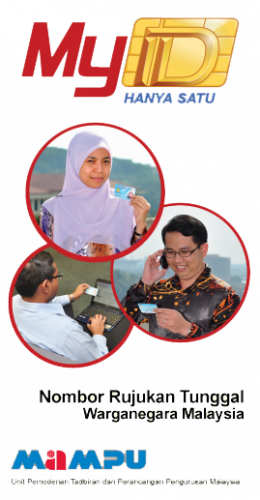 MyID is an initiative that uses MyKad numbers as a single reference number for Malaysian citizens who deal as individuals with government agencies.
MyID is very important because it only uses one number for a citizen to deal individually with various government agencies. This allows dealing with government agencies to be easier and faster.
All government agencies are required to implement MyID. In this regard, government agencies are required to take immediate action towards implementing the MyID initiative for all services involving citizens as individuals.
Not all services are included in this initiative. It is only for services that involve citizens as individuals and services currently have a specific reference number used when citizens check the status of the application and so on.
The implementation of MyID does not apply to services that do not generate reference numbers, for example, the provision of application forms and so on.
The meaning of 'Malaysian citizens dealing as individuals with government agencies' is citizens who deal with the government as individuals and not in the name of the company.
The implementation of MyID is specific to Malaysian citizens only. However, if the services offered by the agency involve foreign nationals as individuals, then the agency can and is encouraged to use the identification number of the individual as a reference number such as passport number and so on.
The real goal of MyID is to make it easier for citizens to deal with government agencies without having to remember various numbers. Only MyKad numbers are used when citizens deal with the government.
However, for some services that require a certain level of security, the agency can verify the identity of the individual as a second stage check after MyID before any information or review is given or allowed.
To implement MyID, all government agencies that provide individual related services must ensure that all existing channels for such services support the implementation of MyID. For example to ensure the effective implementation of MyID, agencies need to take note of the following:
Ensure that officers dealing with the public only ask for MyKad number as a reference number when Malaysian citizens deal at the counter or by telephone;
Ensure that only MyKad numbers need to be filled in by Malaysian citizens and not other reference numbers in the form provided by the agency;
Make MyKad number as a reference number when Malaysian citizens access or conduct search in agency and kiosk online services;
Ensure that documents issued for individuals have a MyKad number as a reference number; and
Review and ensure the work processes and ICT systems in the agency as a whole support the implementation of MyID.
Currently, the implementation of MyID only involves public services and does not involve non-governmental institutions such as banks.
For military or police personnel, if they do not hold a MyKad, they can use the police or military authority card number to deal with services that already use MyID as in the EPF and IRB.
If an individual only makes general inquiries (example: EPF withdrawal conditions), security questions do not need to be asked. In the case of inquiries involving confidential and private information, security questions consisting of individual demographic information such as full name, permanent address or location of withdrawal application are made.
Any information, suggestions and inquiries on MyID can be submitted to the responsible officer as per the schedule.