ABOUT JOURNAL
CODE OF PUBLICATION ETHICS
EDITORIAL BOARD MEMBERS
SCOPE OF JOURNAL
REVIEW
SUBMISSION GUIDELINE
ARCHIVE
CURRENT
ABOUT JOURNAL
The Jurnal INSTUN is an official journal of the National Institute of Land and Survey (INSTUN). It is published yearly once in the month of November. The Jurnal INSTUN obtains writing resources from authoritative sources such as the writings of INSTUN staff with experience in related fields and authors from other departments. It is published with the assistance of strategic partners, composed of lecturers with experience in writing research papers. Creating this journal is a joint effort of INSTUN with reloj cartie replica strategic partners to increase the number of reading materials and scientific references in Malaysia related to land management and administration, survey and mapping.
In this regard, INSTUN Management is striving to make this journal a useful reading material and to ensure that the quality and quantity of the writing are improved. It would be a pleasure for INSTUN to extend its gratitude to the authors who contributed to this issue and to the editors who worked tirelessly in order to prepare it.
PUBLICATION CHARGES
There are no charges for submission of a writing as well as no charges for article processing or publication.
DISCLAIMER
All claims expressed in this article are solely those of the authors and do not necessarily represent those of their affiliated organizations, or those of the publisher, the editors and the reviewers. Any product that may be evaluated in this article, or claim that may be made by its manufacturer, is not guaranteed or endorsed by the publisher.
ETHICAL STATEMENT
Jurnal INSTUN adheres to high standards of ethical conduct at every stage of the publication process. Throughout our Code of Publication Ethics, we provide general guidelines for authors, editors, and reviewers.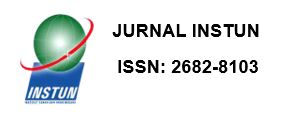 CODE OF PUBLICATION ETHICS
EDITORIAL BOARD MEMBERS
SCOPE OF JOURNAL
REVIEW
SUBMISSION GUIDELINE
ARCHIVE
CURRENT